EFFECTIVE 2/15/21, ONSITE POWER WILL NO LONGER REPRESENT HUDSON (FIN-FAN). WE WILL CONTINUE TO ASSIST IN SUPPORTING EXISTING HUDSON COOLERS SO PLEASE CONTACT US IF YOU NEED ASSISTANCE. FOR NEW COOLERS PLEASE CHECK OUT OUR WORLDWIDE AIR COOLER PAGE ON OUR WEBSITE TO MEET ANY AIR COOLER REQUIREMENT YOU MAY HAVE. Click here for Worldwide Page
Download Hudson's Tutorial "Basics of Air Cooled Heat Exchangers" (2.16 MB, high-speed connection recommended).
Watch video on Hudson dry fin cleaning process
Hudson Products Corporation has more than 50 years of experience in the design, manufacture, and servicing of heat transfer equipment for the petroleum, chemical, gas processing, and electric utility industries. Through continuous innovation, Hudson Products became the pioneer in this field, developing internationally recognized trademarks such as Fin-Fan® Air-Cooled Heat Exchangers, Hy-Fin® Extruded Finned Tubing, and Tuf-Lite®, Tuf-Lite II® and Tuf-Lite III® FRP Axial Flow Fans for air coolers and cooling towers. Hudson also produces the Combin-aire® line of humidified air-cooled heat exchangers.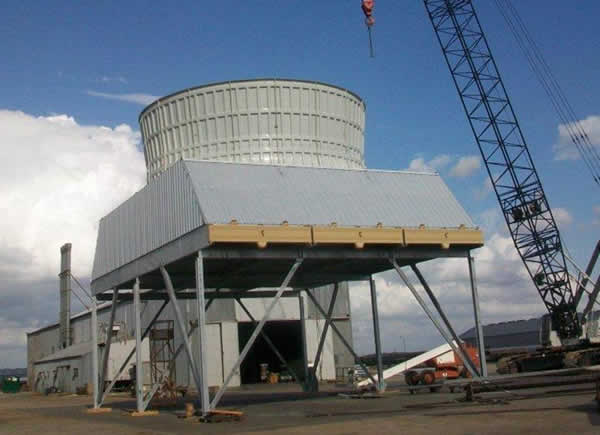 All air-cooled heat exchangers are custom designed by our experienced heat transfer and mechanical engineers in accordance with customer requirements and industry standards such as ASME, API and ISO.
Hudson's primary production facilities are located on a 125-acre site near Houston, Texas, housing the capability to manufacture every component of an air-cooled heat exchanger, including finned tubes, tube bundles and FRP axial flow fans, as well as associated structural and mechanical components.
Hudson also offers services to customers that include:
Computational Fluid Dynamics (CFD). Entrainment of hot fan exhaust into air-cooled heat exchangers (ACHE) fan intakes can reduce efficiency of ACHEs and sometimes limit plant production, especially in the summer. CFD has successfully predicted temperature flow patterns around ACHEs and plant equipment and can help reduce hot air recirculation. The success of these predictions allows us to offer CFD as an engineering service to customers.

Hudson Cooling Solutions. Offers users and operators of Air-Cooled Heat Exchangers an invaluable source of expert knowledge and advice for performance enhancement of existing equipment to determine current performance, maximize potential heat duty and make and implement recommendations. Hudson Products Corporation's contract maintenance inspection service puts Hudson's years of experience with air-cooled heat exchangers and cooling towers to work for you — before trouble starts, not after. Designed to eliminate or reduce downtime and costly repairs resulting from equipment failure, the service can also help you maintain the efficiency of air-cooled heat exchanger or cooling tower equipment. Either way, you save.

Parts. In service, our watchword is "responsiveness", whether it's the immediate service of equipment or helping to evaluate equipment performance or condition before downtime occurs. We respond rapidly to emergencies, shipping parts to any location within hours